The Blue Ridge Jazz Project

Music Samples

Brian Litz

John Leonard

Bruce Fransen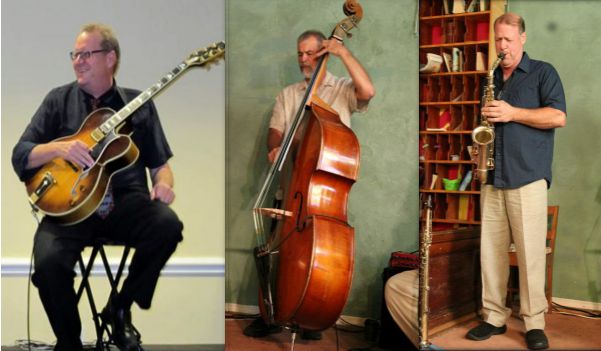 The Blue Ridge Jazz Project consists of local musicians, Brian Litz on Guitar, Bruce Fransen

on Sax/Flute and John Leonard on upright Bass. The veteran trio performs jazz standards from
Great American Love Songs, Cool Jazz, Bebop, Bossa Nova and Sambas. They all now live in
the Tri State area but met playing club dates in Washington DC years ago. Together they offer
over 100 years of experience of swinging music.
Brian Litz: Born: Bethesda, Maryland.

Resides in Hedgesville West Virginia.

Influenced early on by his father, renowned guitar teacher Victor Litz, Brian started playing guitar when he was four years old. By the age of five, he was performing in student recitals. His love of music was encouraged and blossomed under his father's guidance. Brian comes from a long family tradition of music; not only did his father play guitar, but his grandfather and uncles were also accomplished musicians.

In high school he played in rock bands listening to Chuck Berry, Eric Clapton, Jimi Hendrix and Jeff Beck. He studied classical guitar at Montgomery College for 2 years and then traveled the country playing in dance bands before coming back to the DC area and settling down to a teaching and freelance playing career. Jazz has always been his first love and his influences include, Joe Pass, Jim Hall, Barney Kessel, Herb Ellis, Jobim, Luiz Bonfa, Baden Powell, Charlie Byrd, Chet Atkins, Danny Gatton, Ed Bicket, Wes Montgomery, Johnny Smith, Lenny Breau and Kenny Burrell. You can find him on many local recording artist CD's and playing around the Washington DC area.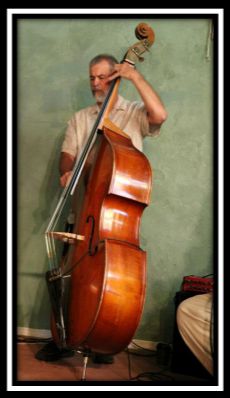 John Leonard:
Born: Olney, Maryland. Resides in Damascus, Maryland

Education: Berklee College of Music. Also studied with John Neves, Whit Brown, and John Rappucci.

Influences: Paul Chambers, Ray Brown, Jimmy Blanton, Ornette Coleman, Ron Carter, Bill Evans, Oscar Pettiford, Air, Johann Sebation Bach, Yes, Dave Holland, Dvorak, Eddie Gomez, John Coltrane, Charlie Haden, Chick Corea, Wayne Shorter, Charles Mingus, Scott Lafaro, Mark Helias, Thelonius Monk, Weather Report, Allman Brothers, Duke Ellington, Miles Davis, Keith Jarrett, Dmitri Shostakovitch.

Performance Credits: Have performed with Herb Pomeroy, Rebecca Paris, Paul Wingo, Nap Turner, Bruce Barth, Steve Wilson, Ronnie Wells, Ron Elliston, Kenny Rankin, Paul Carr, Bill Boublitz, Robben Ford, Roger Kellaway Chris Bacas, Scott Hamilton, Marty Nau, Pam Bricker, Michelle Rosewoman, Blues Alley Big Band, Mike Kamuf Little Big Band.

Selected Discography: Bill Boublitz: Takes On Life (Five Chime Music 2010), Marty Nau: Strings Attached (Nau's The Time Music 1999), Lou Rainone: 2nd Nature (Rain 1 Jazz 1999), Bacas/Cunneff/Leonard: Exits (Fells Point Jazz 1999), Tom Teasley: Balancing Act (T & T Music 1990), Suede: Easily Suede (Easily Suede Music 1988), Kathy Troccoli: A Sentimental Christmas (Reunion Records 1999.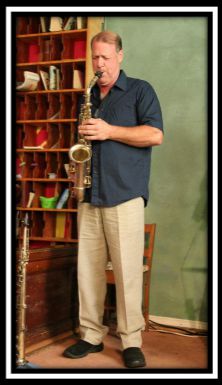 Bruce Fransen
Resides in Harpers Ferry, WV

When Bruce was five he discovered his father's metal clarinet in the closet, many squeaks and squawks later he was playing simple tunes. Bruce soon joined the elementary school band in fourth grade (Centerport Elementary, Long Island, New York). He continued with the band program through high school mostly playing clarinet, but played bassoon for a year in eighth grade. In college he studied fine arts at VCU in Richmond, VA and fell in love with Jazz and playing saxophone, guitar and banjo.
After moving to the Frederick MD area, Bruce played with numerous top 40 bands, fusion bands, and jazz combos from the early seventies until the present. Bruce also is currently working with a ten piece variety band called Doctor's Order and performs regularly in Frederick MD at Cafe Nola.