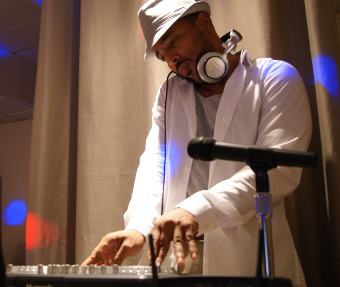 DJ Motheus
DJ Motheus has been working in the live event production field for 19 years. With more than a decade of DJing experience, the Motheus is also an experienced technical director for large and small productions across a wide range of genres; the Motheus brings a wealth of production experience to your next great event. Whether it's a corporate gala, a society wedding, a private party or themed event, the Motheus can design and execute the perfect audio entertainment experience for your venue.
One of the truly special aspects of "The Motheus Experience" is a keen, almost uncanny, simpatico with the listening crowd, coupled with a deep, richly diverse musical palette that you'd be hard-pressed to find anywhere else. Hosting a reception with 3 or more generations of musical tastes in attendance? The Motheus has your back! Planning a Bar Mitzvah for a precocious young man who listens to sounds on his iPod that you've never understood? Let DJ Motheus be your audio ambassador...your young man will come away with cool points to spare (and you'll look every bit the hero!)
DJ Motheus will work tirelessly with you and your event coordination staff to craft the perfect set list to have your attendees dancing the whole night long. For venues and productions with particular aesthetic requirements, custom sample mixes are available upon request.
Among his varied talents brought to bear for the discerning client: his voice. the Motheus is an accomplished voice-over artist, having recorded radio spots heard throughout the DC/MD/VA market. Possessing refined elocution delivered by one of the richest baritone voices in the business, The Motheus can provide the perfect MC experience to your next great event.
As an experienced Visual Media specialist, the Motheus can also bring a special memorable touch to your event with party lighting effects packages and customized logo/branding design and projection, available upon request.
Genres:
Big Band, Top Forty, Dance, Disco, Dubstep, EDM(incl: Techno, House, Club, Trance, Ambient), Swing, Jazz, Motown, Pop, Rock, Funk, Hip-Hop, Salsa/Merengue/Bachata, R&B/Soul, Slow Songs, Ballads, County, Ethnic, Ethnic and World Music, Show Tunes,
Equipment:
Mixer Mackie ProFX12
Wireless mic Audio-Technica ATW-R1100
Wired mic
DJ Controller Numark MixTrack Pro
Thumps Mackie TH-15A Active Speaker