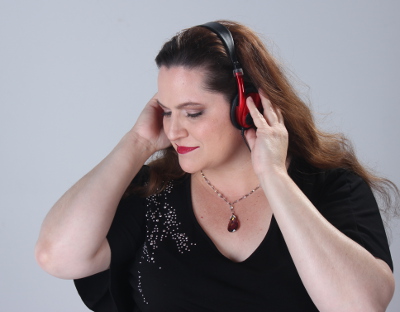 DJ Debbie Bulles
I'm "DJ Debbie" and I have been highly requested to provide DJ and Karaoke services in the Maryland, Virginia, and Washington, DC area for over 17 years. I began my career deejaying high school dances when I was still a senior in high school. I have always been musically inclined and I have always had a very outgoing personality---NO SHYNESS HERE!--probably stemming from my "pom-pom and cheerleader" days and leading up to my completing my degree in communications and becoming a radio broadcaster. In addition to being a full-time mobile deejay- until recently -- I was a radio personality with KEY 103.1 - WAFY. I have many loyal and enthusiastic fans from rural areas to towns and cities over a four-state area –and also -the Washington Metropolitan area included in my fan base -- from recent radio-- days when I was very well known as "Debbie Kay" broadcasting from WAFY in Frederick, Maryland, for over eight years. Everyone always remarked about my sweet lovely personality and high-quality radio voice. I performed not only as an on-air radio personality—but also appeared in person at many remote environments and events sponsored by WAFY. I love meeting people in general as well as entertaining people from all walks of life.

 TALENTS
I am a kind, sophisticated, professional, energetic and high-quality deejay—a real go-getter who loves to share my love for diversity in life with any audience -- and I love to share my musical energy and other multiple talents including dancing and teaching others to dance as well. I can be low-key --or -- I have both the quality and talents to be very high energy.

CAPABILITIES/POSSIBILITIES
I have emceed and deejayed countless events from 5 or 10 K races, birthday parties, high school dances, proms, anniversary parties, holiday parties to country club events, weddings, bar and bat mitzvahs and even huge conventions, galas, corporate events, fund raisers etc. I can deejay any other type of function your special occasion might require. I am also a very well known karaoke deejay (I CAN AND I DO SING!!!) -- and have a wide range of karaoke music including a 5000 karaoke song list.
MUSIC
I love to play all types of music, combining multiple genres in one set and I focus on playing music that creates the right mood and energy for each event. I would absolutely love to emcee or deejay your upcoming special event or Karaoke show! I have the right combination of experiences and skills, a vast music selection, top notch deejay equipment-including lights--all the right things needed to make your event something very very wonderful! My music library spans over many decades – from the 1950's to present and includes: Big Band, Top Forty, County, Jazz, Swing, Motown, Dance, Show Tunes, Standards, Soul, Disco, Funk, R&B, Slow Songs, Ballads, Hip-Hop, Ethnic, Jewish, Latin, World Music, Christian Music etc.
A SPECIAL NOTE TO YOU!
YOUR SPECIAL WEDDING DAY!
As an experienced and very charming professional in the wedding industry – I will listen to your special needs and offer many ideas and suggestions based upon what you envision for your own unique wedding. I will work with you incorporating each minute detail and customizing your wedding reception into the special wedding you always envisioned---and will masterfully make your wedding music unique whether it is the background music to set the mood for dining, or top quality and up-to-date hot dance music to keep the energy level absolutely high on the dance floor. My wedding music includes the wedding standards, classic rock and Motown to the dance and the hot party hits of today—and I promise that your quests will be in tip-top spirits and celebrating with you. Whether your wedding consists of a casual outdoor event --or -- a luncheon --or --a black-tie dinner –(not to worry!) -- I will bring the professionalism you deserve to make your wedding day and your wedding reception the most remembered occasion of the year!!!
Thanks so very much for taking the time to read my bio. I'm really looking forward to meeting you and being your wedding deejay!!!