About Anthem

Anthem Music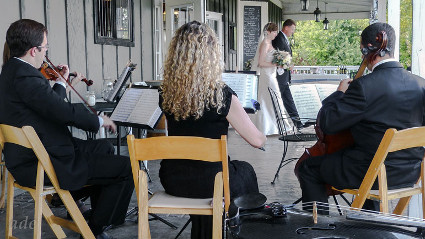 Music by Anthem
When you choose Music by Anthem, you are choosing musicians who love what they do and sincerely value your satisfaction. You are assured of inspired performance and outstanding service, a combination that makes Music by Anthem your best entertainment value.
Anthem understands the importance of your event, whether an intimate gathering or a large celebration. We set the perfect musical mood, no matter the size or purpose. You are free to relax, enjoy the music, and enjoy the occasion along with your guests.
Excellent Musicianship
Anthem's musicians are experienced professionals who also perform with many DC-area bands, orchestras, and theaters. Their talent and versatility are reflected in the variety of instruments and enormous range of musical styles each of them has mastered. More than excellent musicianship, Anthem's musicians deeply understand and profoundly respect their music. They constantly seek opportunities to expand their musical knowledge and experience.
Vast and Varied Repertoire
Anthem's repertoire contains thousands of pieces of music -- and continues to grow. Our styles include everything from classical to Celtic, to jazz, to Broadway, Disney, and pop tunes. We have performed at and enhanced, weddings of African, Jewish, Irish, and other traditions. We have also compiled and performed complete programs of Scottish, Irish, Latin American, and Swedish music. Whether it's music from America, cultures throughout the world, something traditional or non-traditional for your wedding processional, or even original music our songwriters create especially for you -- Anthem can provide it.